The 2020 Hyundai Palisade will be arriving just in time for one last summer trip!

Everyone is talking about the 2020 Hyundai Palisade. This new vehicle, coming soon to Sheehy Hyundai of Waldorf, is built with families in mind. Between the design, fuel economy, power, technology, and safety, there's a lot to get excited about. Check out 5 of the major features of the 2020 Hyundai Palisade:
Near-luxury Comfort
With three rows and more than enough legroom, the 2020 Hyundai Palisade can comfortably seat 8 passengers. There's a one-touch system to move the second row and easily access the third row. Gone are the days of calling shot-gun and arguing over who is cramped in the back – the third row has a large window, USB ports, and reclining seats so all passengers can enjoy the ride.
Safety Beyond Belief
The 2020 Palisade comes standard with active-safety features including forward-collision alert, automated emergency braking, lane-keeping assist, and adaptive cruise control. But there are also additional features to maximize your family's safety and minimize your worry. These features include blind view monitor – side-view cameras that are shown when turn signals are on, and ultrasonic rear occupant which sends you a text reminding you to retrieve a child or a pet left in the rear of your vehicle. With such comprehensive safety components, you can rest easy!
Cutting-Edge Technology
Connect your technology to the new 2020 Hyundai Palisade with ease and make the most out these fantastic features! The large touchscreen displays clean, crisp graphics and is customizable so you can access your favorite features easily. Play your favorite music or podcast with Apple CarPlay and Android Auto Functionality. Plus, this family-oriented vehicle also includes in-car intercom with driver talk/quiet mode enabling you to talk easily between rows and to mute audio in the back rows as to avoid disturbing sleeping kids.
Power on the Road
The 2020 Hyundai Palisade's power comes solely from a 3.8-liter V-6 mated to an eight-speed automatic transmission, with 291-horsepower routed to the front wheels. All-wheel drive will be optional on all trim levels. With power like that, you'll have no trouble carting around the entire family.
Look Great on the Road
This flagship vehicle has a distinct look including a cascading grill, an upright and angular body, and a floating roof. You're sure to turn heads as you drive by in this stylish car!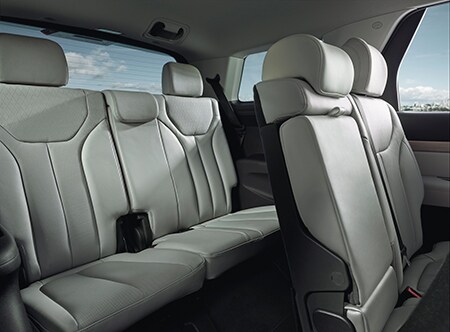 Summer road trips with the family will be a blast in the new 2020 Hyundai Palisade. This vehicle is coming out soon so keep an eye out on the Sheehy Hyundai of Waldorf website!