At Sheehy Hyundai of Waldorf, we love giving back to the community and pride ourselves on our commitment to supporting those in need in Southern Maryland. Each year we participate in the Sheehy Auto Stores' Annual Giving campaign by donating to a local charity or non-profit in the Waldorf, Maryland area. This year we decided to help The Arnold House by donating $5,000 to them.

The Arnold House is a grassroots non-profit organization that is dedicated to raising awareness and fighting hunger and homelessness in Southern Maryland. They partner with local citizens, businesses, schools, and public and private organizations to deliver food and other basic necessities to those in need. The Arnold House was founded in 2015 when its original founders were working in a soup kitchen. They met with and got to know some of the homeless people visiting the soup kitchen and were eventually invited to visit their home in the woods. After that fateful day in the woods, the founders decided they were going to deliver a hot meal to the people living in that homeless community the following Sunday and from that day on The Arnold House was born.

Not only do they provide meals to families, children and adults in Charles County, Maryland they also run a food pantry, help people get into affordable housing, and raise awareness of the invisible problem of hunger and homeless through advocacy, writing articles, and sharing stories of people experiencing homelessness and hunger. This program would not be able to run without the support of volunteers and the kindness of other people's donations which is why we decided they were the perfect non-profit to support during this year's Annual Giving Campaign.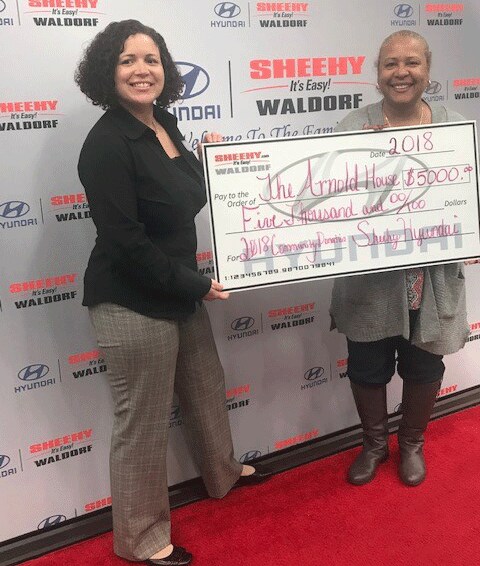 L to R: Erica Kallop, General Manager of Sheehy Hyundai of Waldorf and Dorcie Marshall from The Arnold House